Steps to Lower Golf Scores this Spring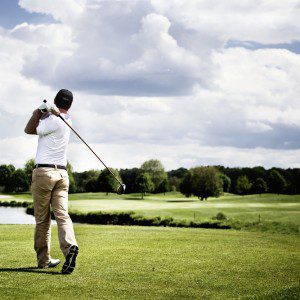 It's been a long winter, but spring is back and that means more opportunity to practice for golf season. Don't let winter inactivity ruin your scores. Get back in shape and beat par with these practice tips to hone the most important skills you'll need on the greens.
Short game equates for almost 70 percent of all shots in golf. That being said, anyone who watched the PGA Tour can see: players with just average (or less than average) short games do not go very far. It's the players who have really practiced their short game that perform better, last longer, and ultimately win more in prizes from tournaments.
The solution to poor scores seems obvious: practice your short game.
Practice Technique
The problem with practice is that it requires strategy. Ineffective practice techniques or working on the wrong things can lead to wasted time. For this reason, we recommend putting as a first priority. Players on tour make about 85 percent of their putts from between 3 and 5 feet from the hole. A similar statistic holds true for recreational golf games.
For your first practice set, make ten putts in a row from a distance within five feet of the hole. Do this set three times flawlessly to lock in your practice. Be sure to sink every putt from this distance or the set of ten starts over.
As you get better at putting from a close distance, step back and work another ten putts in a row from 15 – 20 feet back. Complete this round of practice three times, as before. Golf Channel recommends aiming for a two-putt at this stage of practice. Three-putts are grounds to start over.
Continue practice like this on a regular basis and keep track of your practice days on a calendar with checkmarks or big, red X's. If you really need an incentive, plan to reward yourself with a night out after meeting your goal number of practice days this month.
It's About Quality
While technique is key to reducing scores and playing shorter games, practice really depends on quality golf turf as well. SYNLawn has worked with golf pro Dave Pelz to develop golf grass that fits every skill level. Our 100 percent nylon greens are customizable with fairway, rough and fringe surfaces to mimic the look, feel and playability of real golf grass. Our unique golf grass is designed to disperse and absorb the energy of the ball for smooth ball roll and natural slow down characteristics. This is the most realistic artificial golf grass on the market!
SYNLawn knows how important it is for your short game to be perfect. Our best recommendation is the install a putting green right there in your own home. Whether you choose to install greens in the backyard or purchase a practice mat for the living room, home putting greens make practice a convenient option.
Spring golf games rely on practice that happens early in the season. The time to practice your short game is now! Rely on our SYNLawn golf experts for realistic artificial golf grass that allows you to take your practice at home straight to the greens with your friends. Call now and get free samples to experience SYNLawn golf at its finest.