SYNLawn Kansas City has expanded its reach into the Southern Illinois region to provide a cleaner and water-saving landscaping alternative. In the southern part of the state, the landscape is very different than of its northern counterpart. The hills play home to many plants and grasses, which can trigger allergies for local families and pets. Soil erosion and other traditional landscaping challenges are also common for the community's homes and businesses.
When our team installs artificial turf in your yard, you and your family can enjoy the outdoors without the muddy zones or plant allergies. It is a hypoallergenic surface with quick draining backings, so it's perfect for both pets and kids. Plus, when mowing and weed maintenance are no longer a concern, you have more time to play fetch with the dogs or do cartwheels with your little ones!
Parts of the state are facing water restrictions which can prevent you from having a beautiful lawn. SYNLawn artificial turf is the perfect alternative. Our synthetic grass is available for more applications than front and backyards, though. Other ways you can use our products around the home or at your commercial facility are:
Pet areas
Playground surfaces
Field turf
Dog parks
Rooftop gardens
Putting greens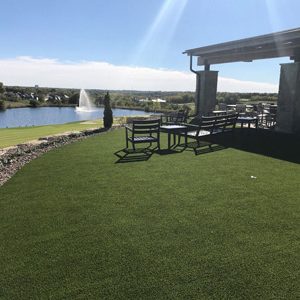 We have plenty of turf blends with the latest manufacturing technology. SYNLawn is best known for their completely recycled turf composition. Other high points include fast-draining turf systems, longer-lasting color and durability, and so much more.
When you contact our SYNLawn office near Southern Illinois, we follow-up with you to schedule a consultation. Our experts will come on-site to see the space first-hand to help make the best recommendations for your needs. We will measure the space, evaluate what is needed to complete installation, and help you select the appropriate turf for your installation.
As your project begins, our crews will remove the natural sod and begin to level the surface. This helps them to address any soil erosion concerns. Once the base is prepared, the turf installation begins! Rolls of turf make their way across your lawn or putting green. Our team will expertly seam them together and secure them to the base.  When finished, we will show you how to maintain the grass, so it looks great for years to come!
SYNLawn is more than a residential product. We have been highly-requested by universities and commercial properties nationwide for landscaping and field turf. From homes in Belleville to Southern Illinois University in Carbondale, our artificial grass products are sure to impress.
Finding the opportunity to spend more quality time with your family is possible. SYNLawn can help. Replace your natural sod with artificial turf and you will no longer need to mow, weed, or water your lawn ever again. Contact us today to schedule your free design consultation! We proudly serve these following Southern Illinois cities:
Belleville | Alton | Granite City | O'Fallon | Carbondale | Marion | Mount Vernon | Centralia | Herrin