Backyard Summer Games for Kansas City Residents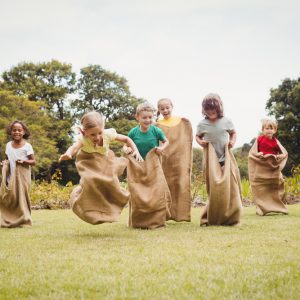 There is nothing better than backyard games after a barbeque with the family, and with summer right around the corner it is time to start planning your next backyard extravaganza. Whether you plan to keep your guest list exclusive to your family or invite the entire neighborhood, there are plenty of games available for the entire group.
If you have synthetic grass installed at your Kansas City home, you already know how easy it is to maintain throughout the year. Despite environmental conditions, high foot traffic or weather, your grass requires little maintenance to look lush and green all year round. Even better, backyard games can be played with groups large and small without damaging your lawn and provide easy cleanup for spills that might occur as a result of endless family fun.
Here are some games that rank high on our list for backyard fun this summer.
Potato sack races
Potato sack races, or gunny sack races, have served as a timeless backyard game for the entire family. Whether you are racing against your cousin or the entire neighborhood block, you can guarantee this easy-to-set-up game will get the group going for a fun night ahead. If you have synthetic grass, don't worry about spills and falls; not only are you safe from grass stains, but you can fall without rocks or holes in the grass keeping you down.
Cornhole or beanbag toss
Cornhole or beanbag tosses aren't just for tailgating; you can enjoy a team event in your own backyard! Cornhole doesn't take up much space in the garage, so store it for the warm summer months and leave it out for a friendly game with family and friends.
Bocce ball
Who doesn't love a fun game of bocce ball? We love bocce for summer and especially on synthetic grass because it won't cause damage the lawn. Bocce balls are heavy, and with more than one being used, the last thing you want to worry about is a damaged yard. Synthetic grass offers Kansas City residents the solution of having a perfectly manicured yard and enjoy a game between friends no matter how heated it might get!
Giant board games
Have you seen the new oversized board games designed specifically for lawns? If you haven't, go and look now! Chess and checkers are some of the most popular, but you can also choose from inflatable bowling, matching card games, oversized connect four and more!
Slip and slide
Stay cool and cater the fun to all ages with a slip-and-slide in your backyard. You can make your own DIY slip-and-slide by purchasing a large plastic sheet (10×100 feet), lay pool noodles around the perimeter of the sheet, pin down the corners and sides and make a slippery concoction of soap and water to create backyard fun for the entire day. If DIY isn't your style, head over to a nearby one-stop-shop for slip-and-slides that have fountains, spray features, bumper pads and easy-to-clean surfaces.
If you have synthetic lawn, you don't have to worry about mud tracking through your house, and many synthetic lawns in Kansas City can handle even your biggest splashes from a slip-and-slide.
Horseshoe
Horseshoe is a timeless game that is fun for all the adults and kids in your life! All you need are horseshoes and two metal stakes to set up, and you're ready to toss away! Forget cleanup, horseshoe takes mere minutes to remove the stakes and store away when you have gotten your fill of the game.
Backyard putt-putt
If you come from a golf-loving family, creating a fun, easy putting green for your kids is a great way to get them outdoors and spending time with your entire family. Whether you want to have an artificial grass putting green installed or simply want to set up an easy-to-use course to practice your game, a synthetic lawn is perfect for the sport. Forget mowing and trimming! Your lawn is ready for action the second you decide to get out your clubs and start a game.
Artificial grass is the perfect summer addition to your Kansas City home. Ditch the lawn mower, forget about mud, rain and holes from games; synthetic grass is the solution you have been looking for. Look forward to endless backyard fun this summer and for years to come with artificial grass from SYNLawn. Call us at (816) 886-2747 or contact us online today for a FREE consultation!