Winter Landscaping Tips for Kansas City Homeowners
SYNLawn artificial grass is ideal for Kansas City homes in the winter. Give yourself and your family the gift of more time this holiday season with easy winter landscaping tips that make it easy to enjoy your yard in the spring. The harsh Kansas City winters can put living elements of your landscape to the test but with these helpful tips, you can ensure the life of your plants and be assured of a beautiful garden in the spring.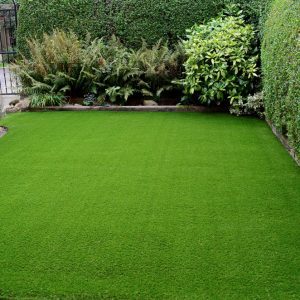 Stake & Trim Trees
In order to prevent any damage to smaller trees by blustery winds, it is a good idea to reinforce and secure them with stakes. Be sure to allow room for small amounts of movement.
Winter can bring storms, which may also lead to broken tree limbs. Taking a proactive approach by trimming any branches above your home before a storm can prevent damage from occurring. Although it is important to prune away broken branches, you should also avoid heavy pruning to keep your trees healthy.
Prevent Pests
Protect new plants and trees with a metal guard set one foot away from the base. This will prevent rodents from burrowing underground and possibly killing saplings. SYNLawn artificial grass can also be shaped around large or small trees for additional protection. Our artificial grass naturally repels pests and deters digging to keep your landscaping safe.
Place Potted Plants Inside
It is important to protect plants from winter storms, which is why potted plants need to be moved inside to a cool, dry place. Terra cotta pots will absorb moisture and can crack as a result of temperature change due to the expansion and contraction of the clay. Be sure to either transplant your blooms before the first frost or designate space inside for them as well.
Get Color with Hearty Winter Blooms
There is a wide variety of flora that can provide color in your landscaping throughout the winter months. Ornamental cabbage and kale bring texture to a garden bed and can survive cold temperatures.
Camellias also bloom in the fall and winter in gorgeous shades of coral, pink, white and red. The plants form shrubs or small trees that are evergreen. Let's not forget about herbs! Rosemary and thyme can remain out doors and most other culinary herbs will survive into the upper 20s. As an extra layer of protection, add more mulch around plants (about two to four inches deep). An artificial lawn will neatly outline the border of your planting beds and accommodate added mulch and other winter protections.
An artificial grass lawn from SYNLawn Kansas City will keep your landscaping evergreen and you won't be left with ugly brown or bare spots. Our turf is specifically designed to handle cold temperatures and winter snow. Contact us today for your free consultation!