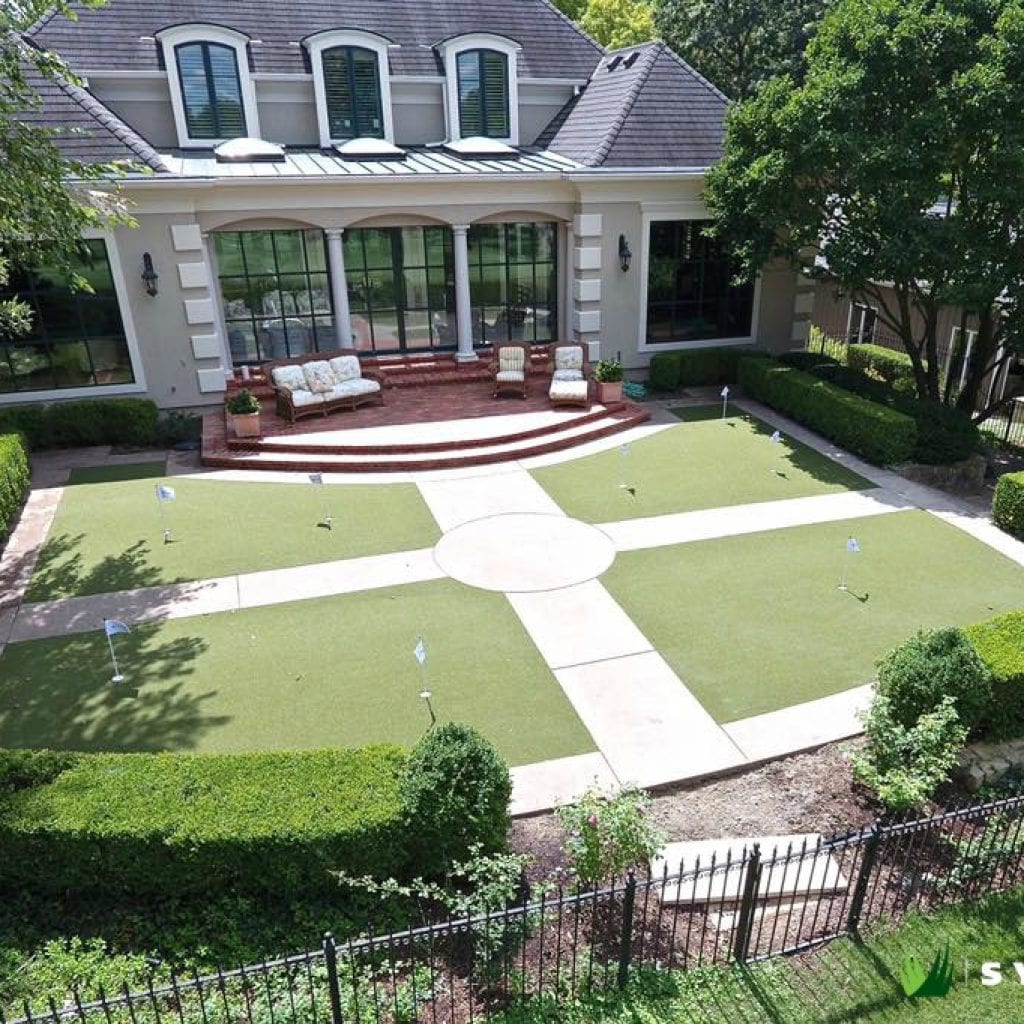 Spring is a great time to refresh your outdoor space with a new artificial lawn from SYNLawn Kansas City. Snow is melting, rain is falling and our artificial grass is up to the challenge! SYNLawn artificial grass is specially manufactured to handle any precipitation nature can muster up. Our products have a drainage rate of over 45L/hour and water won't pool underneath. Our synthetic grass won't become brittle or break if the weather turns cold. Sleet and frost are no match for our turf! When temperatures begin to heat up towards the end of spring, our Omega technology will keep your synthetic grass cool in the warm Kansas City summers and comfortable all year round.
Landscape Design
Spring is the perfect time to think green, especially when your plants begin to bloom after a long winter in Kansas City. Our artificial lawns can be customized to compliment your planting beds and existing trees. Allow our natural looking artificial grass to provide a lush lawn that suits the existing natural elements of your landscape design. We work with you to bring your vision to life. We will take care of all the irrigation natural transitions between hardscaping elements, such as walkways or retaining walls.
Have you ever dreamed of your own personal putting green? Well, we can create that, too! Our team is dedicated to providing you with a truly unique space just for you to enjoy. Take a look at our golf putting green products here.
If you have little ones, SYNLawn Kansas City can also create a backyard playground oasis with a synthetic grass system that is IPEMA certified to prevent injury from falls up to ten feet and won't cause any allergies (like traditional grass)! For more information, be sure to check out our playground products page.
Go Green
SYNLawn's green technology can also lower your carbon footprint by eliminating emissions from lawn equipment and conserving water. Synthetic grass will last your Kansas City area home for years to come and is created using recyclable content. Our soy-based EnviroLoc™ Backing System has an enhanced multi-layer component that locks in durable turf fibers, which means less shedding and a longer lifespan for your turf.
The newest addition to SYNLawn's environmentally responsible product line is a polyethylene product made from sustainably grown Brazilian sugar cane. We are proud to be continually expanding our "Go Green" offerings and are committed to the health of our environment while continuing to provide top-quality artificial grass. Contact us today to get your free estimate and design consultation!