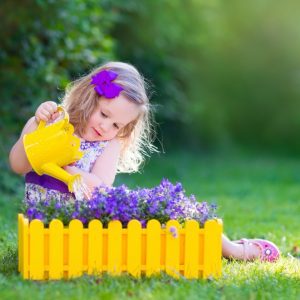 When the summer heat comes, some Kansas families stay inside where it's air-conditioned and cool, while others head outside to relish the sunny skies and outdoor activities. If you're among the latter, there are some great ideas here for you to make the most of your summer. If you're among the former, we hope you'll consider some of these fun options to bring you outdoors and enjoy the beautiful summer with your friends and family!
Every kid loves to bounce on a trampoline, and even those who are young at heart have to admit there's fun to be had there. By burying the trampoline so that the mesh is even with the ground and installing artificial grass in your backyard, you can not only make this activity safer, but the result is far more aesthetically pleasing as well. At ground level, falls are far less likely to happen, let alone cause injury, and SYNLawn's synthetic grass is designed to be safe and soft to cushion the impact of any accidental slips and falls.
Create a "Tiny Village" Garden
Let your artistic side shine through this summer and sculpt your garden into the shape of a miniature town. Kids love the idea of a "fairy garden" in the backyard and even adults can have fun arranging prop houses along gravel roads with beautiful stepping stones. An artistic project like this can be fun for the whole family to come together to create and SYNLawn is happy to help you! Our artificial lawns can be designed to blend seamlessly with any landscape and can help provide a lush surrounding environment for your miniature village.
Even if you don't play it, most everyone has at least heard of the mobile game Angry Birds. Recreate this classic game in your backyard using cardboard boxes, balloons, and softballs for a great time with friends and family! Simply stack the boxes sideways to make your "castle" and place balloons in the boxes so they are visible. Then throw the softballs at your makeshift castle to try to pop the balloons!
No matter how you choose to spend this summer, we hope you have fun and stay safe. Hopefully, these ideas will provide you and your family with some summer fun or perhaps spark some summertime activities and projects of your own. Regardless of your backyard plans, SYNLawn's artificial grass is the perfect surface for any backyard activity. Contact us online or call (816) 886-2747 today to get a free design consultation!