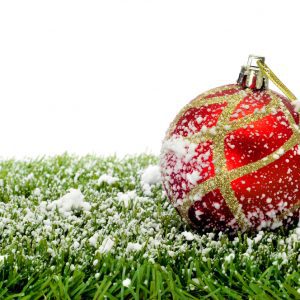 As we put away the leftover turkey from Thanksgiving, it's time to turn our attention to the Christmas season. Some people start putting up their Christmas scene the day after they take down their Halloween decorations, but some prefer to wait until closer to the holiday. Regardless of when you decide to start decorating your home and lawn for Christmas this year, we've put together some simple yard decorating tips you can use to beautify your home. Whether you have a natural lawn or artificial grass installed at your Kansas City home, a little Christmas cheer goes a long way in making a house look warm and welcoming during the holidays.
Oversized Ornaments
Extra-large Christmas ornaments look fantastic with snowy caps and are a great way to accentuate your lawn. Even if you don't get a lot of snow, some brightly colored bulbs against the lush green of artificial grass are the perfect decoration for Kansas City homes.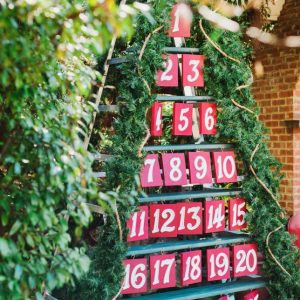 Giant Advent Calendar
Start out with a simple ladder and decorate it with green garlands
Place some wooden planks on the steps to create bridges inside the gap getting progressively smaller as they get closer to the top of the "tree"
Attach some hooks to the planks and hang numbers 1-25 from the hooks, starting with 1 at the top of the "tree"
Add a few ornaments for some extra flair and you've got a giant Advent calendar on your lawn!
Vintage Pallet Sled
With a little creativity and effort, you can take an old wooden pallet and turn it into a charming symbol of carefree childhood days spent sledding down snowy slopes. This cute little addition to your lawn will add some rustic Kansas City charm to your home. Since our artificial grass is tough enough to withstand heavy traffic, you won't have to worry about your yard if the kids (or yourself) decide to take the sled for a test run!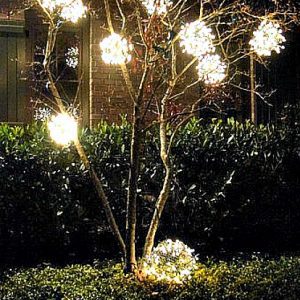 Glowing Lights
If you have trees in your front yard, here's a handy trick to really bring some festive charm to your lawn. Intertwine Christmas lights with chicken wire (yes, chicken wire), form a ball out of it, and hang those light balls from the tree like ornaments. You can wrap the power cords around the branches and trunk of the tree to keep them out of the way and hidden.
All of these Christmas lawn decorations are simple ways to bring some Kansas City charm to your home this season. One thing that will help give your home beauty all year-round is artificial grass from SYNLawn. If you're expecting heavy snowfall this Christmas, you will never have another worry about your lawn surviving the cold. If you're not expecting much snow, you can enjoy a beautiful green lawn that will look wonderful with your chosen decorations. It's a win/win!
If you're ready to have artificial grass installed at your Kansas City home or have some questions, call us at (816) 886-2747 or contact us online today for a FREE consultation!