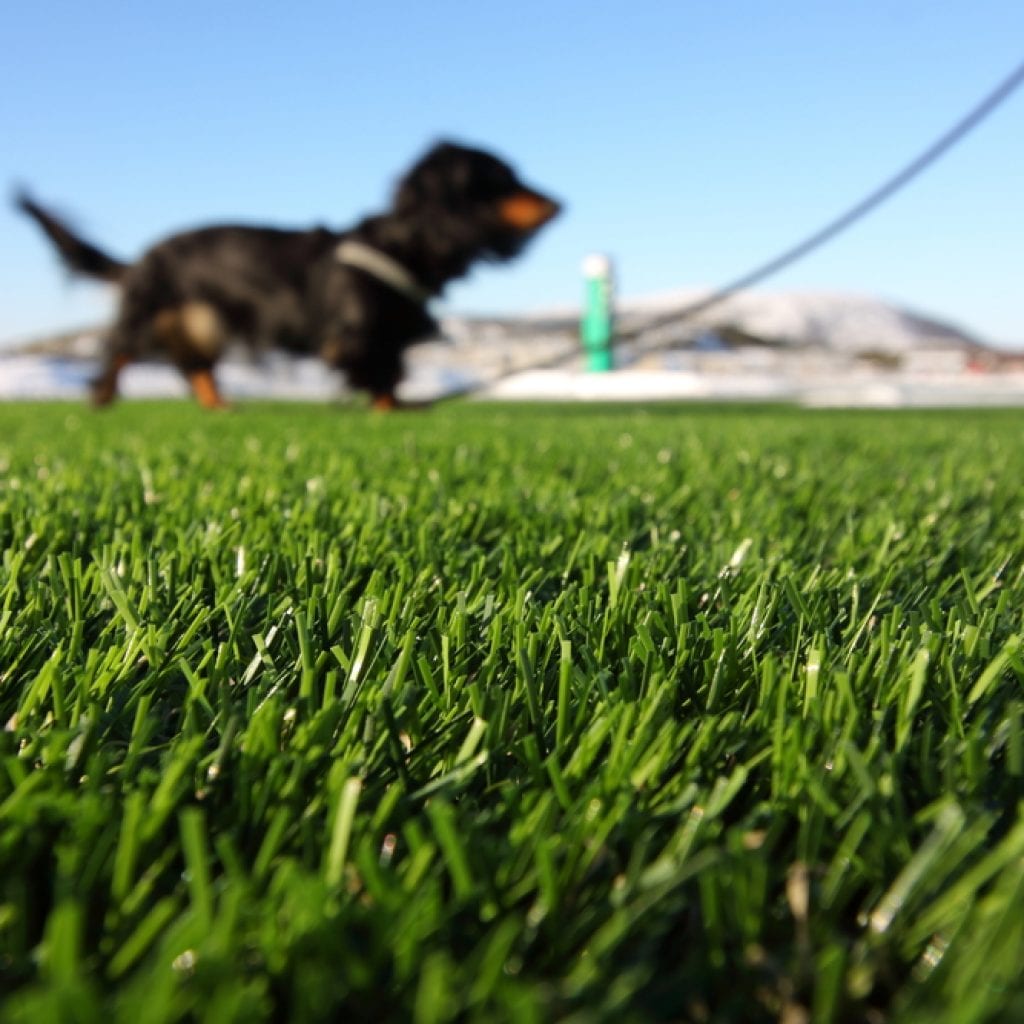 You already spoil your dog with food, treats, toys, and most importantly your love. Now is the time to invest the same attention into the surfaces your dog plays on every day. Kansas City pet owners love that their artificial pet turf system! This landscaping alternative is fun for your pet while keeping them safe and healthy! Here are some of the top reasons we recommend artificial pet grass for homeowners.
Stop the Stench
Not only is your yard a playground for your furry friend, but it is also where they do their business. Our organic odor-controlling crystals are used in each pet grass installation. This reduces 80 percent of odors caused by pet waste. Nobody enjoys the smell after their pet goes to the bathroom, so leave it in the past! You won't have to worry about urine spots or dead grass in your yard, either. With a SYNLawn synthetic grass pet area, your yard will always look beautiful and green.
Enhance Their Health
Just like you, we want to make sure your pets are always healthy, especially when spending time outside. Harmful fertilizers and pesticides never have to be used on artificial grass surfaces, so they are kept away from your pets and out of the ground water supply. There will no need to worry about pests like fleas and ticks as they are naturally deterred by burrowing in synthetic lawns.
All-Weather Turf
Whether it's a cold, snowy day or the dead of summer, our artificial grass pet systems can be used all year long. You never have to worry about heavy rain or snow fall due to our industry leading drainage rates. Our pet systems allow for liquid to drain at 45-inches per hour. That means play time for your pet even right after the storm passes!
Deter Digging
The strength of our artificial pet grass makes it difficult for your dog to go on their digging adventures. You will no longer have to worry about mud or dirt being tracked into your home from your pet. This also will eliminate the need to fill holes, which means your yard will always look fantastic!
Whether it be your own backyard or the dog park, pets will enjoy our synthetic pet grass. We offer artificial grass landscaping installations throughout Kansas City and surrounding areas. Spend less time cleaning your dog from play time and worrying about urine spots in your yard and provide your pets with a safe place to play and run. We address all the needs of the pets and pet owners we serve.
Looking for an estimate? Contact us today for a free consultation!