At SYNLawn Kansas City, we offer top-notch commercial artificial grass that can provide your businesses in Kansas City, MO with several significant benefits. Sadly, traditional grass lawns and landscapes often require time-consuming upkeep and hundreds to thousands of dollars in maintenance expenses. And even then, your conventional commercial lawn or landscape does not look its best all the time. Fortunately, at SYNLawn Kansas City, our artificial turf for storefronts, office parks, shopping centers, malls, and more can help provide persistent beauty and so much more!
5 of the most beloved benefits of our commercial artificial grass products include:
#1. Consistent Lush, Green Beauty
Curb appeal is a crucial factor for any Kansas City business. From retail storefronts to office parks and more, having a gorgeously green lawn or landscape helps invite customers and clients into your commercial property. It also helps your employees take pride in their workplace. Yet, in an area with dramatic shifts in weather throughout the year, having a consistently lush, green lawn or landscape is nearly impossible with traditional grass. Fortunately, with our SYNLawn commercial artificial grass, having a beautiful verdant lawn or landscape all year-round is not only possible but well within reach. Contact us today to learn more!
#2. Immense Durability
Commercial businesses in Kansas City, Missouri often experience high amounts of foot traffic. Whether from customers or employees, there can be dozens to thousands of people walking across your grass surfaces on a daily basis. Sadly, conventional grass lawns and landscapes are equipped to handle this volume of wear and tear, especially with changing weather like rain, wind, and snow involved as well.
Thankfully, our commercial synthetic grass is built to withstand multiple types of wear and tear, including foot traffic, lawn games and activities, and even elements from the local weather. This makes our commercial artificial turf a long-lasting alternative for Kansas City businesses.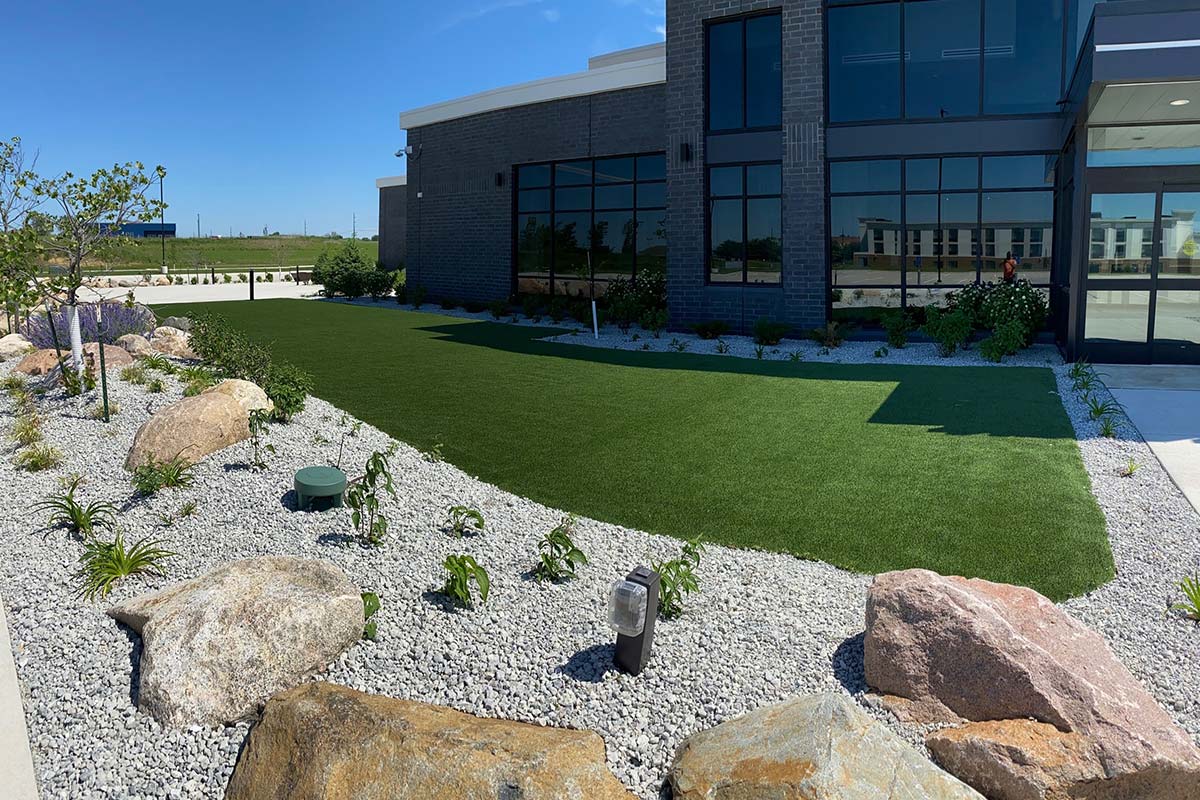 #3. Little to No Maintenance
Businesses in Kansas City and anywhere else must operate with expenses in mind. This includes money spent on employee salaries, supplies, and even groundskeeping. Fortunately, groundskeeping fees can easily be lessened by switching to our commercial artificial grass! Our synthetic surfaces require little to no maintenance throughout their extensive lifespans. They do not need to be irrigated, mowed, or treated with any chemicals like fertilizers and weed killers. This allows your business to eliminate many of the usual groundskeeping costs traditional grass requires, helping to save you money in the long run!
#4. Environmentally Friendly Surfacing
Utilizing eco-friendly alternatives is not just great for the environment; it's great for business! At SYNLawn Kansas City, our commercial artificial grass is made from recyclable, non-toxic materials. This helps ensure that it is safer not only for those who enjoy it but for the environment as well. Plus, since our synthetic grass eliminates the need for gas-powered lawn mowers as well as watering, it helps reduce carbon emissions and conserve water! Ultimately, this makes our commercial artificial turf an incredibly sustainable solution for storefronts, office parks, and other businesses.
#5. Specialized Turf for Your Clients, Customers, & Employees
For many businesses in Kansas City, MO, traditional grass and standard artificial turf are simply not enough. They have unique needs that surfaces must be able to meet. Thankfully, at SYNLawn Kansas City, our team offers a selection of several specialized synthetic grass and artificial turf products. Some of our many options include artificial lawns, synthetic landscapes, pet and dog grass, playground turf, artificial golf greens, and even roof, deck, and patio grass. With these specially engineered products, we are better equipped to help address your business' specific surfacing requirements!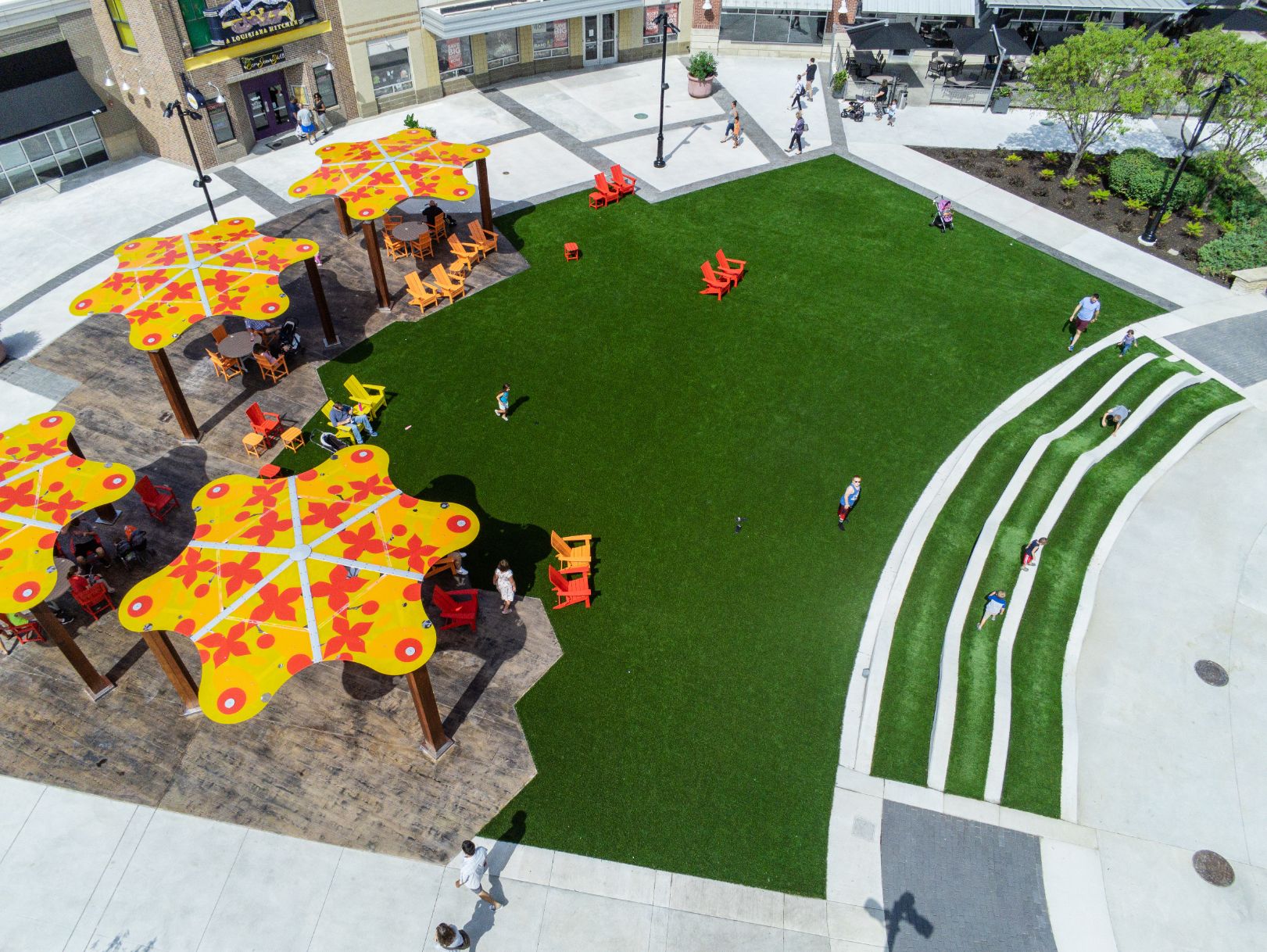 Contact Us Today to Learn More About Commercial Artificial Grass & Installation in Kansas City, MO!
At SYNLawn Kansas City, our team offers top-notch commercial artificial grass products and installation services to businesses in Kansas City, Missouri. With our expertise and American-made artificial turf products, we can help provide your business with several benefits, including a consistently beautiful lawn or landscape that is highly durable, eco-friendly, low-maintenance, and potentially specialized. Contact us today to learn more or get a free quote for our commercial synthetic grass!