Top 5 Reasons Your Dog Will Love Artificial Grass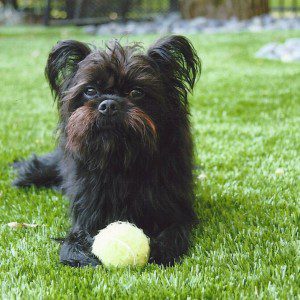 Dogs and their human counterparts are rejoicing over synthetic grass installations throughout Kansas City. There are plenty of reasons for dog owners love artificial grass, and it is easy to see why. SYNLawn Kansas City offers homeowners easy to clean solutions for yards, pet corners and dog runs that stay green and intact year round. Forget brown and dying grass in the winter, artificial grass for dogs in Kansas City offers owners the ability to showcase gorgeous green grass all year long.
The best part about synthetic grass installations in Kansas City is that it's not just geared towards humans; dogs love it too! Take our word, Fido will be howling for joy when he sees your new artificial turf digs for your backyard. Here's why:
It feels just like authentic grass all year long
Kansas City weather isn't always predictable. With high temperatures in the summer and low temperatures with snow in the winter, natural grass often doesn't make it. Much to your dismay (as well as your dog's), the ground is cold, dry and sometimes painful to walk or run on. Synthetic grass allows your pet to happily run, play and relieve him or herself year round without leaving dead grass under his or her paws.
Ditch harsh chemicals and weed-killing herbicides
When you make the switch to use synthetic grass at your Kansas City home, you are opting to encourage a healthy, natural lifestyle for your pet. The use of harsh chemicals, pesticides and herbicides can make for an unhealthy environment for you and your pet. Artificial pet grass is the solution for your dog to roll, fetch and play in a clean, healthy environment.
Not only are the chemicals used in weed-killing herbicides and pesticides dangerous for your dog, but they are unhealthy for your family as well. Artificial grass doesn't require the use of harsh chemicals and pesticides to discourage weed growth within the turf itself, allowing you to enjoy full use of your lawn year round.
Paws and feet are safe from heavy tread areas
Backyards and front yards are two of the most common areas where children, adults and animals to walk and play. Natural grass creates muddy paths in the rain and debris-riddled carvings in the fall often making your yard look messy and uneven. Artificial grass, on the other hand, doesn't wear under heavy foot or paw traffic, making your yard uniformly beautiful no matter how much use it sees.
Muddy paws need not apply
We have all been there; the moment where your excited pup races in from the backyard only to track in almost everything he came into contact with while outside. Lawn debris, leaves, mud, gravel, and loose dirt is scattered everywhere and your floor is no longer clean. Rest assured that your synthetic grass installation will take care of the problem immediately. Our grass is installed with sand and other fine particulate matter to create a barrier between mud and grass. This way, your pet can enjoy running around rain or shine without tracking in muddy paw prints when he is ready to meander back indoors.
Your pooch can have their own space
Our synthetic pet grass is designed for animals to enjoy no matter what the spatial arrangement is. If you are installing a dog run with a fence and want artificial pet grass for a side yard, we can do it. If you want an area near the door for cold, rainy days, we have the solution. Do you want to install soft, durable grass for dogs to enjoy year-round at a dog park, pet hotel or any other dog-friendly Kansas City establishment? We have the product for you. Give us the specifics and we will work together to get a perfect space ready for your dog and his or her specific needs.
It's time to start saving money and providing a beautiful, healthy environment for your pet and family year round. Contact us today to set up an appointment for artificial grass installation for your home and get a FREE quote! We guarantee you will love the look, feel and cost savings our artificial pet grass will give you in your Kansas City home.