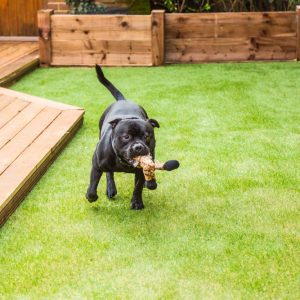 We understand that pet owners want to provide their pets with the best products both in the home and outside of it. This led us to develop an artificial dog grass system that is not only fun for pets to use, but it can also be an integral part of your plan to keep pets safe and healthy.
Safe for Pets to Use
We know that your pet's safety and health is of utmost importance, which is why we made pet systems that are environmentally friendly and free from harmful chemicals. We've developed a BioSeries that is safe enough for all breeds of dogs, and can be installed in commercial or residential lots. Our BioSeries starts with our SYNLawn exclusive EnviroLoc™ Backing System. This multi-layer system locks in the durable turf fibers, which allows dog to play all day with tearing out the fibers. Our high-quality artificial pet grass does not require rubber infill that would otherwise be harmful to pets and children. Instead, we use renewable resources such as soybean oil. By installing our eco-friendly pet system, you'll be reducing the amount of harmful chemicals your dog comes into contact with.
Our artificial grass also reduces the amount of fleas and other pests that can irritate your pets. Natural grass provides the perfect environment for the pests to thrive in. With synthetic material, they don't stand a chance.
Maintenance Matters
When developing our pet system, we wanted to make it was as low maintenance as possible. We developed a way to reduce odor so your pet's play area remains sanitary even after use. Control pet waste odors using organic and natural Zeolite™ crystals that absorb the odor caused by ammonia in pet waste.
To ensure waste drains quickly and effectively, we upgraded the drainage capabilities of our artificial grass by double-punching the backing. This allows for a 90 inches of liquid to drain per hour. This prevents liquid from sitting on your lawn.
Cleaning your artificial pet grass is simple, and the frequency of cleanings varies depending on the number of pets using your artificial turf. Kansas City residents should create a consistent schedule for cleaning their artificial grass. We recommend picking up solid waste just as you would normally after it dries. From there, spray your pet system with a hose to clear away residue left behind by liquid waste and promote even draining. A homemade mixture of white distilled vinegar with equal parts water can further neutralize the waste site. After application, spray with your hose once more.
Commercial and residential installations are available throughout Kansas City and surrounding areas. From dog runs to dog parks, dogs of all breeds will enjoy our signature pet system. Enjoy more time with your pets and less time on maintenance. Pet owners can provide pets with a safe and comfortable place to play and run. For a free quote on a pet system installation, please contact us today.