The Benefits of Indoor Putting Greens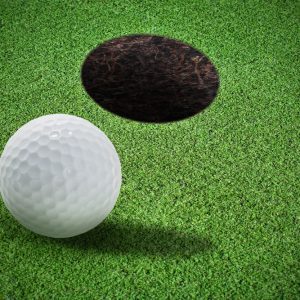 It can be difficult to find the time and opportunity to get away to the golf course during the best of times, but during the colder months, it can be even harder. Some golf enthusiasts can't stand the idea of not being able to play for months at a time, but are unable to travel to warmer climates to enjoy their favorite game. Fortunately, SYNLawn has the perfect solution in the form of portable, DIY indoor putting greens. Kansas City may not have the harshest winters, but nobody enjoys golfing in 30-degree weather, so we would like to illustrate some of the many benefits to owning your very own indoor putting green.
Personalize Your Putting Green
When you own you very own putting green, you have the freedom to customize it to your tastes with obstacles, flags or anything else you may think of.
Enjoy Regardless of Weather
By bringing your putting game inside, you can enjoy a leisurely round no matter what the outdoors looks like, rain or shine, sun or snow. Weather will no longer get between you and your favorite game.
Bring the game of golf wherever you want! From the living room to the garage, home office to even the bathroom, different sized putting greens can be moved around and placed in any room you like.
When you have your own putting green in your backyard or indoors, you can enjoy a round whenever the mood strikes you. No more worrying about whether the driving range will be open on your day off. Enjoy the convenience of a putting green in your own home.
Since you can play at home, you won't have to worry about paying fees at a range and golf balls will be much easier to keep track of should one get away from you.
Perfect for Any Skill Level
Easy to maintain and always accessible, indoor putting greens are ideal for golfers of any level. From professionals to beginners, everyone can benefit.
All of our portable, DIY indoor putting greens are made with 100 percent renewable materials and designed to look, feel and play just like natural turf. Featuring realistic slow down and ball roll characteristics, you can experience the same turf performance that the pros see both on the fairway and when they practice at home! Are you interested in practicing your putting game in the comfort and convenience of your own Kansas City home with our indoor putting greens? Then call us at (816) 886-2747 or contact us online today for a FREE quote!