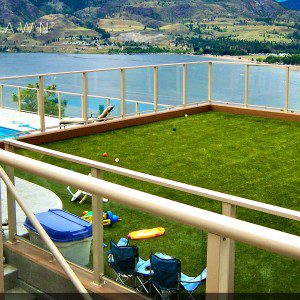 Heading into 2017, every business owner in Kansas City is looking to the future and wondering how they can improve their business this year. While no business is exactly the same and there are many nuances of the business world to consider, there is always one thing that can universally benefit any business, regardless of the industry. In Kansas City, SYNLawn offers artificial turf for a wide variety of commercial applications. You can use artificial grass to:
Make the Most of Your Space
Gone are the days of artificial grass that looks fake and rough. Our synthetic turf offers the same look and feel as natural grass, making it warm and inviting. Installing our artificial turf on the rooftop or those unused balconies at the office can provide your employees with a comfortable place to gather and get some fresh air.
It's no secret that when morale drops, so does work ethic and productivity. In addition to having a comfortable place to gather, installing indoor putting greens in break areas can be a great way to boost morale. You can even use it to set up team building activities, bringing your team together with a fun activity that gets your team active, having fun, and engaged in healthy competition.
When someone comes to your place of business, their perception of your company begins before they even enter the door. Installing artificial turf guarantees that a beautifully lush, green lawn will always greet visitors and present your business with a crisp, professional image all year round.
Artificial grass can help every business save money, which is crucial for any industry in Kansas City. Since artificial turf never needs to be watered, mowed or fertilized, your business can save money on monthly water and landscaping costs. This money can then be invested in other areas to help grow your business.
These are just a few of the ways that artificial grass can help improve your Kansas City business. At SYNLawn, we offer only the finest synthetic turf on the market and all of our products come with a warranty and professional installation to ensure that you can enjoy your beautiful new lawn for years to come! An artificial lawn is an investment in your business as well as your employees, creating a professional image and a welcoming, comfortable environment for everyone.
If you're interested in installing artificial grass at your business, contact us online today for a FREE quote! Our expert designers will work with you to create the perfect design to blend seamlessly with any landscape and suit any need.