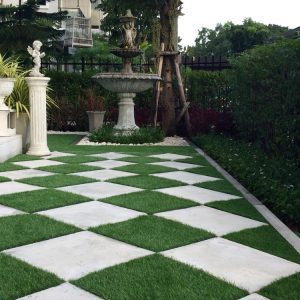 Whether you want to host a party or just relax with loved ones in your Kansas City home, landscaping is the key to creating a warm, welcoming abode. Creating just the right landscapes can result in unexpected obstacles. Do not let these surprises get in your way, let's overcome them! Whether it is an issue of maintenance costs or just enhancing little spaces for a large impact, there is a solution!
Maintenance Costs
You have just the right idea and vision for what you want your landscaping to be – great! Now the hard part is making sure maintenance costs do not catch up with you. Grass is an affordable way to create your desired look, but maintenance costs can get pricey long-term. Natural grass lawns require regular maintenance to keep it in its manicured state. Artificial grass in Kansas City could be just the solution to tackle this obstacle! With a synthetic lawn, it's easy to get that lush, green natural look without the maintenance hassles or costs. Enhance curb appeal with a beautiful front lawn without any of the maintenance cost!
Pet Accommodations
There must be consideration for your fury family member when thinking about your landscaping. Your pet needs space, too! There is nothing better than a green area for your pet to use as they run and play. There are countless benefits to synthetic pet grass. For starters, pets stay clean without any dirt or mud collecting on their fur while they play. In fact, there is such excellent drainage with pet turf that, at a rate of 30-inches per hour, your pet can easily play outside after the rain!
Weather Conditions
As we enjoy the seasons changing, we are reminded that weather conditions can be an obstacle for your landscape. After rain or snow, is there more mud than you know what do with? The way to overcome it is to get rid of the source of the mud and fill the space with synthetic grass. Our artificial grass can withstand the harshest winters and the scorching summers. As we prepare for the snow season, imagine not having to worry about your lawn.
Working with Unique Spaces
Your landscape is almost perfect, but there might be something missing or a space that just needs assistance. Synthetic grass can be placed on driveways and walkways in combination with bricks or cement to create a unique design. If the backyard is missing a touch of entertainment, add a custom putting green that can perfect your short game!
There are landscaping obstacles that may feel like there is no way to overcome. Fortunately, artificial grass in Kansas City can help improve your landscaping for stunning results year-round. From no maintenance costs to enhancing small spaces, there is nothing synthetic grass cannot do. Contact us today for a free consultation.